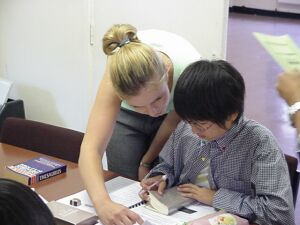 Duration: 18
Sit Available: 25
EFL Teachers
Teaching our small groups is highly rewarding work, as is shown by the number of EFL teachers who have been teaching on our short courses regularly for five, ten or even twenty years.
Outline
CHE courses are all non-residential, and typically last from a few days to 3 weeks.
The great majority of our courses take place in March, July and August.
Our courses take place in our homestay locations, which are distributed across England.
We do not have a teaching centre. Because our courses are only 1 to 3 weeks long, we hire classroom space when we require it.
Our courses are relatively varied with a lot of excursions and cultural activities, and EFL teachers are usually required to help lead or support these. Our EFL teachers enjoy the variety this offers.
Teaching Aims & Outcomes
Increased readiness and skill at instigating and carrying on conversation in English.
Improved familiarity with British culture and how to navigate it.
Knowledge of the context and meaning of sights of interest visited.
Next Steps
We hope you're interested in teaching with us.
Because CHE courses are all non-residential, it is necessary for teachers to be living within commuting distance of a study centre in one of the homestay locations. Please enquire as to our list of homestay locations  and make sure that at least one of them is accessible for you. Some of our teachers who don't normally live near a study centre location have a friend or relative who does, and who they are able to stay with. We apologise, but we are unable to offer travel or accommodation expenses.
If you can teach in one of the homestay locations, please contact us by completing the form below. Please be sure to explain which location could work for you.
If we are able to move forwards, I will get in touch with you and we can arrange a time for a brief chat on the telephone.
If this is satisfactory, we can arrange a time for an interview in person, on the phone, or by Skype if you are currently outside the UK.